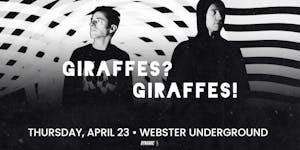 Presented by MassConcerts
Giraffes? Giraffes!
The Refectory, Destination Dimension
The Webster Underground
GIRAFFES? GIRAFFES! @ The Webster Underground
The Webster Theater has made the decision to cancel this event in an effort to help contain the spread of COVID-19 as well comply with the federal guidelines banning all gatherings over 10 people. Unfortunately, it does not appear that we will be able to reschedule this particular event. Refunds will be issued automatically. Refunds traditionally take approx. 7-10 business days to process, however, processing may take slightly longer do to the overwhelming amount of postponements and cancelations happening throughout the country.
Venue Information:
The Webster Underground
31 Webster St
Hartford, CT, 06114